If you have read our Terms and Conditions and your ready to enter the Australian Watercolour Muster - 2021 - Please click this link below:

Deadline for Submissions - 5pm - 6th August 2021

---
If you need - please read the following HELP Notes 🌞!
How to 'Enter' your Artwork for the Australian Watercolour Muster - 2021
When you hit the <Button> at the Top or Bottom of this page you will be taken through to the Gallery 247 Registration Pages. The images below will guide you through the process in Gallery 247
A quick note about Gallery 247
Gallery 247 manages the National Registry for Australian Art and Artists, covering amateur, hobby and professional artists.
Registration is free, and artists are automatically pre-registered for every participating art show. Artists and art lovers alike receive the latest news on what's happening in the art show world.
As an artist you get your own free virtual studio that you can update at any time, as well as create and edit your own bio. Your bio is automatically updated when you win show prizes. You don't even have the hassle and cost of having your own website. And yes - you can sell your works on line too.
Our Partnership With Gallery 247
The 'Australian Watercolour Muster' has chosen to partner with Gallery 247 for a number of reasons:
Safe and independent management of your Artwork - which as we said above, each piece of Artwork you upload to the Gallery 247 is automatically registered and maintained as your Artwork in the 'National Register for Australian Art and Artists' at no extra cost, you will receive a Certificate for each piece of Art your submit to Gallery 247.
Secure PAYMENT Gateway for payment of your entry Fee - to the Australian Watercolour Muster - 2021.
Gallery 247 provide us database and technical support to showcase your Artwork on our Australian Watercolour Muster - 2021 Digital Gallery
After the Australian Watercolour Muster each year - you are able to stay with the Gallery 247 and either showcase your Work or choose to sell online with them according to their various levels of subscription - this is a private arrangement ongoing with Gallery 247 that is not managed by the Australian Watercolour Muster - you are independent and free to do this as you choose.
The following HELP SCREENS
are what you will see after you enter the Gallery 247 Site
Click the <button> link above or below - and you will see this screen - log in if you are already a Member of Gallery 247 or Register via the 'Green button' below on the form:
2. When you log in you will be asked to upload your artwork and provide details of your name, address and bank card....etc

3. Once you have populated your 'My Gallery 247' space you will be able to see your artwork on your Dashboard and Select the submit Artwork to the Australian Watercolour Muster 2020 (Green Box) to the right:
4. On your you will see an explanation of the 'Categories' for Entry to the 'Muster' - this is a repeat of what is on our Website www.australianwatercolourmuster.com
Below that, you will see your Artwork that is ready to be loaded to the Australian Watercolour Muster - 2020.
If there is no images of your Artwork in this area you will need to go back and check you have uploaded your Artwork properly into the Gallery 247 site.
The link I've highlighted in yellow on the right hand side - is a link back to our Australian Watercolour Muster - 2020 Website if you want to refer to any of the details there but it's not the link to 'Enter' your artwork - please read on:
5. To continue to 'Enter' head down the page to select the Artwork you want to submit to the Australian Watercolour Muster - 2021: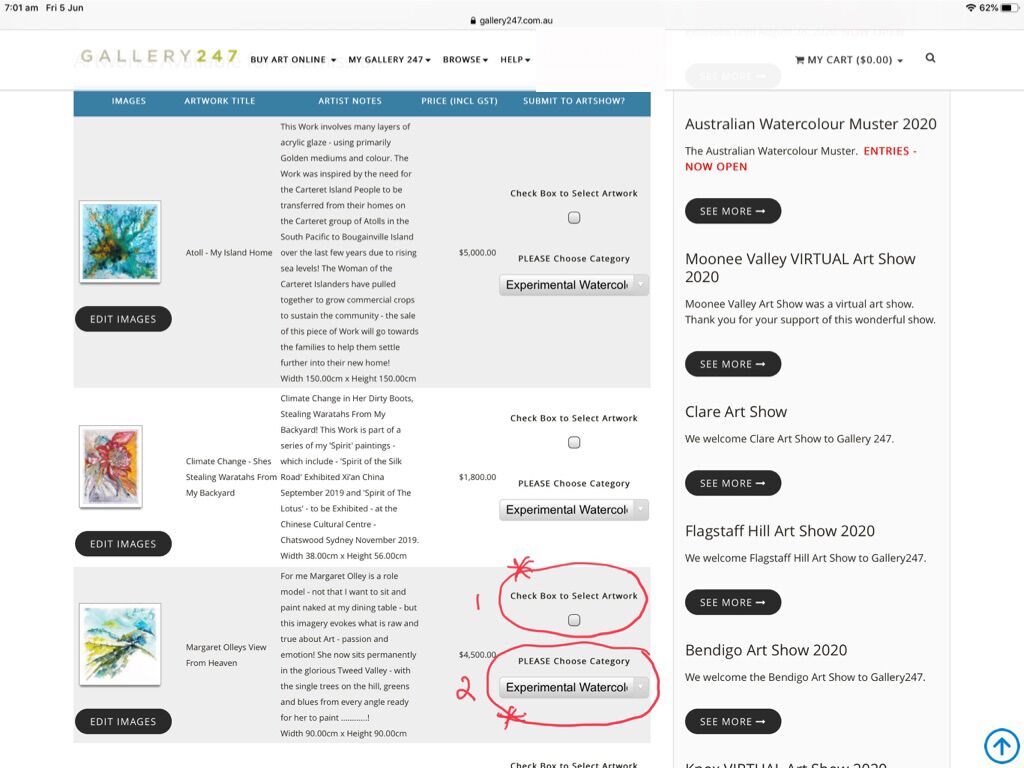 6. Tick the little box (1) to select that painting to 'Enter', you can enter as many paintings as you like in each Category - but please read <FEES and COMMISSIONS> and make sure you go to the little box (2) above and drop the <Drop List> down and nominate what Category you want to Enter:
7. Then scroll down to the bottom of this web page and click the <Submit Selected Artwork to Show> see below:
8. Your will then be taken to the <Secure Payment Gateway> and asked to enter your details for payment.
9. Once your click the green <Confirm Artwork Submission> your Artwork will be submitted to the Australian Watercolour Muster - 2020 you will receive emails to confirm your Artwork is submitted.
Please read all the Terms and Conditions for the Australian Watercolour Muster - 2020 before entering!
Key Dates are also available -
so you know when the Jury process is happening, and

when you will be notified of the Finalists etc
---
If Your Ready to Enter the Australian Watercolour Muster - 2020 - Please Click this Orange Link below:
Deadline for Submissions - 5pm 6th August 2021